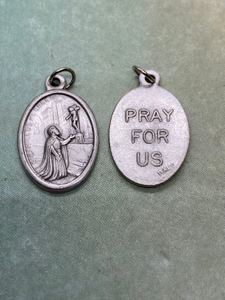 Saint Camillus/Camillo de Lellis (1550-1614).
Italian Catholic saint, memorial is July 14, or July 18 in the USA.
His mother died when he was very young. Spent his youth as a soldier. Supposedly he was a very tall man, 6'6", but he had abscesses on his feet. Was a gambling addict, so he had to take a job as a construction worker, working for the Capuchins, and they converted him. He entered the Capuchin novitiate 3 times, but nagging war injuries kept forcing him to give it up. He went to Rome for medical treatment and there St. Philip Neri became his priest and confessor. Lacking any education, he began to study with children when he was 32 years old. Eventually he became a priest and founded an order, the Congregation of the Servants of the Sick.
Think well. Speak well. Do well. These three things, through the mercy of God, will make a man go to Heaven. – Saint Camillus de Lellis
These medals are great on necklaces, bracelets, rosaries, pins or whatever else you had in mind. They all come with an open jump ring so you can attach it to your necklace.
Get a chain here:
Holy Medal Chains - 18", 24", 30" chains, stainless steel, aluminum, c – chillypumpkinholymedals
All medals and crucifixes are silver oxide (unless noted otherwise), which is a silver plated zinc alloy. **For the longest shine, you may want to coat your silver oxide medals with a clear coat of clear nail polish. The thin coating of silver oxide will eventually wear off.** They are quality Italian made, and the medals are approx. 1 inch tall and 5/8 inch wide.
Your items will ship first class in a padded kraft envelope.  Items ship in 1-3 days.