Why ChillyPumpkin Holy Medals?
So glad that you found us! I have been studying saints and my Catholic faith for many years now. Like the priest said to the 8th grade confirmandee at my cousin's son's recent confirmation, (I paraphrase...) you are just in the 8th grade, you still have a lot of learning to do in math and English and science and so on, continue your faith learning as well.
While I have taken a few classes at the local seminary and have been in Bible studies for 10+ years, I am an informal student of the faith. I like to learn about it, a lot. And so I am always discovering something new, be it a saint story, or a current event within the Church, or learning about a Church council, or a Marian apparition, or a book in the Bible. All of this helps us to get to know the Church better and even more importantly, it helps us get to know Jesus Christ better. We must develop a relationship with our Lord and Savior. A 15 minute homily once a week is not "faith formation".
You can find medals of saints and blesseds here. Some of my listings have a little more details about some of the saints. Others are a work in progress.
I also make what I call "blessing cords". I think the typical name is a door hanger. I have handmade well over 300 blessing cords. There are three different sizes available, and I have many different "themes" - holy days, devotions, St. Benedict, vocation, bereavement, confirmation, marriage, motherhood, and more. If you would like a custom blessing cord, please contact me.
So, whether you are looking for a saint medal or a Catholic gift or even a three days of darkness kit, you have come to the right place! Look around, see what is available, and if you have any questions, please click the "contact us" button.
God bless you and yours, and thanks for stopping by.
Kathy
About Old Times N Such
Old Times N Such is an antique store in Marine City, Michigan. My mom started it in the late 80's. I am slowly taking it over. From time to time I will add a vintage item to this site, as time allows.
You can also check out our Facebook page for a look at our wares as they evolve.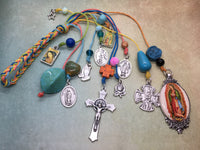 Catholic Door Hangers aka Blessing Cords
We hand make customized Catholic Door Hangers. Shown is Our Lady of Guadalupe. We also have Protection from Evil, assorted Catholic holy days, and various themes (vocation, house warming, confirmation, get well and more). See Blessing Cords link at top menu or click on Contact Us for a custom blessing cord.